Thursday, March 8, 2012

First Restaurant with food cooked in a Vulcano: Restaurant El Diablo sets world record (Video)

Lanzarote Island, Spain--Enjoyed against the volcanic backdrop of Lanzarote's Timanfaya National Park in the Canary Islands, the food served at El Diablo (the Devil) is cooked on a massive cast iron grill built over a large hole in the ground , setting the world record for the First restaurant with food cooked in a Vulcano, according to World Record Academy: www.worldrecordacademy.com/.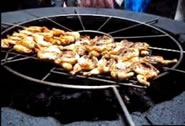 Photo: Rstaurant El Diablo
(enlarge photo)

The Guinness world record for the Most expensive city to eat in restaurants (2007) was set by London, UK, where the average cost of a three-course meal plus one glass of wine is £39.09 ($79.66) - practically double that of New York, USA (£19.30, $39.33).

Guinness World Records also recognized the world record for the largest food court, set by Oasis restaurants and entertainment, in Cairo, Egypt. With a total floor area of 41,000 m² (441,318 ft² 80 in²), it comprises 25 restaurants and cafes with a total seating capacity of 4,223.

Designed by the local architect Cesar Manrique and built in the 1970s, the meat, poultry and fish are grilled using the volcano's geothermal heat.

El Diablo's manager, Julio Padron, told ABC News that the heat emanates from the volcano "24 hours a day, 365 days a year, reaching between 450 to 500 degrees Celsius."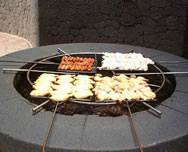 (enlarge photo)

That is why volcanologists call it a geothermal anomaly, because of the unusual temperatures on the surface that come from underground.

The restaurant consulted scientists and volcanologists to check the food and the way it is being grilled, and they gave it the thumbs up, deeming it safe, saying there were "no dangers associated with this technique of cooking at all," Padron said.

Thankfully, the volcano does not spew lava because it's dormant but the bursts of heat or hot vapor are enough to cook delectable dishes that have many tourists flocking to the restaurant in droves.

Open from midday until 3:30 p.m., the restaurant is "fully booked every day," Padron told ABC News.

Related world records:
First country to impose a fat tax: Denmark (Video)

Most eggs cracked in one minute: Ross McCurdy sets world record

Smallest food truck: The Verts Kebap trailer

Longest Picnic Table: Safeway (Video)

Longest picnic table: Mastercard (Video)

First Dog Kitchen: TrueFoodForDogs

Highest restaurant: Dubai's At.mosphere

Most cars on display in a restaurant: Dream Cars Restaurant

Longest picnic table: Eden Project Big Lunch

Longest restaurant table: El Campello

Biggest coffin: Eternity restaurant

Thursday, March 8, 2012 9:15 AM