Wednesday, March 30, 2011

Most people cocktail flairing simultaneously: T.G.I. Friday's UK set world record (Video)

COVENT GARDEN, LONDON, UK -- T.G.I. Friday's kicked of the celebrations of 25 years in the UK with 101 world-class professional bartenders from their restaurants flairing in sync, without dropping a bottle, for over two minutes - setting the new world record for the most people cocktail flairing simultaneously and in synchrony.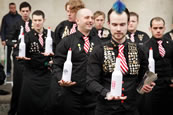 (enlarge photo)

The Guinness world record for the most cocktails made in one hour by a team is 1,541, achieved by 42BELOW (New Zealand) and the US Bartenders' Guild (USA) at the ACE Hotel in New York, USA.

Guinness World Records also recognized the world record for The most consecutive bottle bumps on the forearm (cocktail flairing) is 31 and was achieved by Simon Rogers (UK) in London.

UK champion Adi Astley, from Manchester, choreographed the special set. He said: "I was so proud of everyone and to have set this new World Records title cements our reputation as the best in the world!"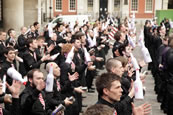 (enlarge photo)

The section leaders were: Adam Friend, Adi Astley, Rod Stubbings, Dave Brolly, Alex Samson, Andy Duckworth (Hero) & Toby Messer.
The organisers: Steve Darwin (also flairing), Lucy Orme, Jos Ruddy & Rachel Lease.

T.G.I. Friday's popularised bar flair which is all about creating entertainment and excitement around cocktail making, and they are known for their world-class skills.

It was, in fact, T.G.I. Friday's bartenders who trained Tom Cruise how to shake his stuff with the amazing flare tricks that wowed everyone in the iconic film Cocktail.

Related world records:
Longest Ice Bar: Crystal Creations and Wicked Audio (Video)

Most cocktails made in an hour: Sheldon Wiley

Most Cocktails Made in an Hour (Team): United States Bartenders' Guild

Largest Pink Margarita: Ricardo's Mexican Restaurant

Largest smoothie: Dairy Farmers of Canada

Largest bottle of grappa: Distilleria Bottega

Most Exclusive Mint Julep Cup: Woodford Reserve

Largest Punch Bowl: Courvoisier and Bompass & Parr

Most bottles opened in one minute: Adam Dolman

Fastest Bartender: Chris Raph

Fastest cocktail mixing: Bobby Gleason

Most Varieties of Rum Commercially Available: Marco Polo Hotel

Wednesday, March 30, 2011