Tuesday, March 20, 2012

Most expensive cup of tea: Panda poop tea sets world record (PICS & Video)

YA'AN, China--Chinese entrepreneur An Yanshi, 41, a former calligraphy teacher, says his organic tea - which is fertilised with panda dung - is a healthy and smooth natural brew; his 'Panda Tea' is set to go on sale for about $200 (£130) a cup - setting the new world record for the Most expensive cup of tea, according to World Record Academy: www.worldrecordacademy.com/.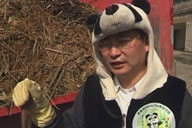 Photo: Dressed in a panda suit to promote his tea and his environmental message, An Yanshi invited dozens of guests from neighbouring Chengdu and the local tea farming community to help in pick the first batch of tea at his tea plantation in the mountains of Ya'an. (enlarge photo)

The Guinness world record for the Largest tea dance (an afternoon dance accompanied by a live band; sandwiches, biscuits and tea must also be served) was set by 306 couples who took part in a tea dance in George Square, Glasgow, Scotland, UK.

Guinness World Records also recognized the world record for Largest collection of tea bag holders, set by Mimi Wilfong (USA) who has a collection of 116 different tea bag holders.

An Yanshi, a Chinese entrepreneur in the southwestern city of Chengdu, has come up with a novel use for panda dung.

He is using it as an organic fertiliser to grow tea leaves - and plans to sell the drink at around $200 per cup.

The first batch of panda dung tea will be sold in lots of about 1.75 ounces for $3,500 each, a price An said makes it the world's most expensive tea. Most people use about a tenth of an ounce of tea per cup.

An defended the steep price, saying he would channel profits from the initial batches into an environmental fund. Future batches would be cheaper, he added.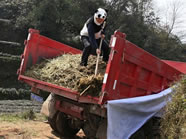 Photo: An Yanshi (R), wearing a panda costume, stands in a truck as he unloads panda droppings which are used as fertiliser at his tea farm during a media event in Ya'an, Sichuan province. Photo: Reuters (enlarge photo)

"I just want to convey to the people of the world the message of turning waste into something useful," the 41-year-old former teacher and journalist said at a weekend event to promote the tea, "and the culture of recycling and using organic fertilizers."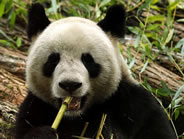 Photo: The giant panda's bamboo diet is difficult for the creatures to digest, meaning they have to spend a vast amount of their time eating the woody plant, which is technically a grass. Photo: Reuters (enlarge photo)

The fertilizer made the tea a health boon, An said, because pandas eat only wild bamboo and absorb only a fraction of the nutrients in their food. After brewing the first pickings, An described the tea as fragrant and smooth.

Related world records:
Largest tea bag: All About Tea (Video)

Most espressos made in one hour: UK Baristas (HD Video)

Largest tea bag : G4's 'Attack of the Show!' (Video)

Most cups of tea made in one hour: Olly Murs

Largest Teapot Monument: The Meitan Tea Museum

Largest Cup Of Tea: Sri Lanka

Largest Sweet Tea: Chick-fil-A

Largest cup of tea: Mercy Health System

Biggest tea cosy: BUPA care homes

Largest tea party: Indore

Tuesday, March 20, 2012 8:58 AM