Wednesday, November 21, 2012

Largest Simultaneous Stein Hoist: Samuel Adams sets world record (PICS)

CINCINNATI, OH, USA -- Led by Samuel Adams Founder and Brewer Jim Koch, over 10,000 beer lovers hoisted steins in unison on September 22, 2012, at 8:00 PM ET, during Oktoberfest celebrations in Boston, Cincinnati, Denver and Chicago while Samuel Adams Facebook fans watched via a live video stream and hoisted from home - setting the new world record for the Largest Simultaneous Stein Hoist, according to the World Record Academy: www.worldrecordacademy.com/.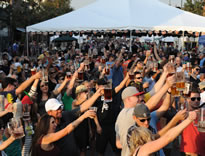 Photo: Samuel Adams Simultaneous Stein Hoist. Photo courtesy of the Boston Beer Company. (enlarge photo)

The Guinness world record for the largest beer tankard measures 5.87 m (19 ft 3 in) tall, has a diameter of 2.03 m (6 ft 7 in) and can hold 12,910 litres (2839.8 gal) of beer. It was created by the Meraner Altstadtvereinigung (Italy) and was presented and measured in Meran, Italy.

Guinness World Records also recognized the world record for the most varieties of beer commercially available: 2,004 - at Delíríum Café, Brussels, Belgium.

"Each fall, we celebrate the release of OctoberFest with a stein hoisting competition at our Boston brewery. We have so much fun with it, we thought, why not expand our hoisting ritual nationwide so drinkers across the country can hoist an authentic Bavarian-style brew and toast the season?" said Samuel Adams Founder and Brewer Jim Koch.

"The rules were very simple: We each hoisted Samuel Adams OctoberFest in a Samuel Adams beer stein. We're glad that over 10,000 beer lovers nationwide hoisted with us."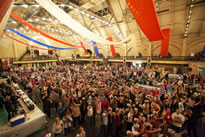 (enlarge photo)

"Stein hoisting has been a tradition at our brewery for years, and our drinkers have embraced the spirit along with us at our annual stein hoisting events," said Koch.

"We are constantly trying to push the limits in brewing – from igniting the craft beer movement with Samuel Adams Boston Lager in 1984 to creating the world's strongest naturally fermented beer with Samuel Adams Utopias. Now we've crossed another 'first' off the list, serving up a malty märzen beer that unites stein hoisters nationwide in a moment of Samuel Adams history. Prost to all!"

Related world records:
Smallest beer shop: The Little Shop sets world record (PICS)

Most expensive beer: Utopias Beer sets world record (VIDEO)

Most People Opening Beer Bottles: Carlsberg-B set world record

Most bottles opened in one minute: Benjamin Pilon sets world record (HD Video)

First beer for dogs: Bowser Beer sets world record (HD Video)

Smallest commercial brewery: Coney Island Brewing Company set world record (HD Video)

Fastest beer dispensing system: GrinOn Industries

Most Expensive Beer - Antarctic Nail Ale

Oldest beer: 200-year-old beer

Largest house made of beer coasters: Sven Goebel

Bitterest Beer: The Hop by Peter Fowler

Lightest Beer: Budweiser Select 55

Strongest beer: Tactical Nuclear Penguin

Largest glass of beer: Auld Dubliner

Most expensive bottle of beer: Lowebrau

Largest selection of Real Ales: the Robin Hood Beer Festival

Biggest pint of beer: Timisoara

Most bier steins carried over 40 metres: Reinhard Wurtz

Latest update:
Monday, November 18, 2013 4:34 PM