Richest Man-world record set by Florin Fluturel

[Aug 21] IASI --Mr. Florin Mihai Fluturel, 34, lawyer, businessman, investor and inventor has established a new world record becoming The Richest Man in the world.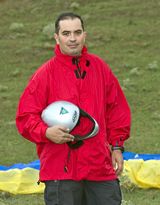 Florin Fluturel holds 79% from the social capital of ROMVECTOR X LTD, having 30,999,600,079.00 shares in value of 98.75 billion EUR.

"The digital era will change the world for the better and take the human civilization to a new level of understanding and knowledge of the Universe" – Florin Fluturel

Using intelligently the resources related to the right of intellectual property and legislation, they made the evaluation of a complex system of inventions and innovations, a system that is in the company's property and that became subsequently a part from its social capital.

The company has emerged after more than 18 years of research in the field of inventions and technology transfers having as object of activity the research and the technology transfer by valorizing inventions and mediating the links between entrepreneurs and inventors from all over the world.

Romvector X deploys its activity in town Iasi, having connections in the entire world. The company has in its portfolio more than one thousand inventions and innovations with applications in very many domains: high-tech industry, aeronautics, IT industry, entertainment.

One of the possible applications of the inventions in the company's portfolio is the control of the electronic equipment by the power of thinking without the sophisticated interface and the control is exercised by interactions at the level of the quantic field.

Another invention in the company's portfolio focuses on the treatment of some medical diseases by means of the controlled interference between the human electromagnetic field and the electromagnetic field issued by the mobile phones and other similar devices; another invention will lead to the reduction of people's aging phenomenon and the prolongation of their healthy life span by correcting partially the errors occurring at the DNA level during the aging process.









Fastest single-turbine engine plane


The Perfect Ten- Nadia Comaneci


Fastest Bio-fuel Powered Car