Saturday, July 7, 2012

Longest cable bridge: the Russky Island bridge sets world record (PICS & VIDEO)

MOSCOW, Russia -- Prime Minister Dmitry Medvedev opened a 3,622-foot (1,104 meter-long) cable bridge connecting Vladivostok to Russky Island - which sets the new world record for the Longest cable bridge, according to the World Record Academy: www.worldrecordacademy.com/.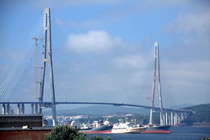 Photo: The world's longest cable bridge spans 1,185 metres (3,887ft) from Vladivostok to Russky (Russian) Island, whose 5,000 inhabitants had until now been cut off from the mainland. The section suspended by cables – 1,104 metres – is the longest in the world, beating China's Sutong bridge by 16 metres. (enlarge photo)

The title of world's longest cable-stayed bridge had previously been held by Sutong Bridge that spans the Yangtze River in China.

The Guinness world record for the Tallest bridge was set by the 2,460-m (8,070-ft) long Millau Viaduct across the Tarn Valley, France, which is supported by seven concrete piers, the tallest of which measures 244.96 m (804 ft) from the ground to the road deck.

Guinness World Records also recognized the world record for the widest long-span bridge, set by the 503 m (1,650 ft) Sydney Harbour Bridge, Australia which is 48.8 m (160 ft) wide.

"I am certain it will serve a great number of people who live in Vladivostok and on Russky Island, and those who come as tourists. … It is just a beautiful structure, embodying the genius of engineering," the prime minister said at an opening ceremony for the bridge, RIA-Novosti reported.

A massive construction boom has hit Vladivostok as the city gets ready to host a summit of the Asia-Pacific Economic Community (Apec) on Russky Island in September.


Russia's Prime Minister Dmitry Medvedev walks on the world's longest cable-stayed suspension bridge. Photo: AFP/RIA-NOVOSTI, Dmitry Astakhov. (enlarge photo)

The world's longest cable bridge is currently only operating on a testing basis.

It reportedly cost about 33.9 billion rubles ($1.1 billion) of federal money to build.

Russia's premier had avidly promoted modernisation while serving as president in the past four years and sounded a clear note of irony as he complemented constructors and engineers on their work.

"Unfortunately, we might not know how to build houses," said Medvedev. "But we can certainly build structures like this."


Related world records:
Tallest lego tower: South Korea sets world record (PICS & Videos)

Largest sheet fortress: The Halberdier Club sets world record

Tallest suspension bridge: Mexico's Baluarte Bridge sets world record (Video)

Largest Ten Commandments: Philippines

Longest outdoor escalator: Medellin sets world record (Video)

Largest straw maze: Garden Cents in Rupert (Video)

Steepest roller coaster: The Takabisha (HD Video)

Longest Bench: Pazardzhik

Longest bridge over water: China's Qingdao Haiwan Bridge

Tallest Jesus statue: Christ the King Monument

Largest indoor theme park: Ferrari World

Largest Aquarium: The Georgia Aquarium

Largest Portable Hammock: Hansy Better Barraza

Largest Clock: The Royal Mecca Clock

Largest mechanical clock: Ganzhou clock

Furthest Leaning Man-made Tower: The Capital Gate

Largest Ice Maze: Buffalo

Largest Igloo: 'Bigloo'

Largest Urn: Richard Cohen Landscape & Construction Inc.

Largest Solar Energy Building: Chinese "Sun Dial"

Largest Performing Fountain: Dubai Fountain

Tallest building: Burj Dubai

Largest floating restaurant: Rustar dhow

Largest cinema screen: Pinewood Studios

Largest Floating Christmas Tree: Rio de Janeiro

Tallest artificial Christmas tree: Mexico City

Largest monument to the Turkey: Frazee City

Largest monument to the onion: Pericei

Largest Free-Flying American Flag: George Washington Bridge

Largest department store - Shinsegae Centum City

Largest Painted Easter Egg - Suceava

Largest Rocking Chair - Dan and Carolyn Sanazaro

Largest bird feeder - Allerton Project farm

Largest hanging basket - Hotel Indigo London Paddington

Longest bridge fountain - Banpo Bridge

Largest Outdoor Skating Rink - Mexico City

Biggest coffin - Eternity restaurant

Highest flagstaff - Turkmenistan

Largest self-supporting dome igloo - APEGNB

Largest administrative building - Romanian Parliament

Largest swimming pool - San Alfonso pool

Largest lenticular mural - Big3D

Tallest Residential Tower - The Chicago Spire

Largest public restroom from China set world record

Longest bridge made from plastic bottles set world record

Largest Paper Brick House set world record

Largest Hindu Temple-The Akshardham Temple

Longest cable-stayed bridge-the Sutong Bridge

Saturday, July 7, 2012 4:26 PM