Largest Paper Brick House set world record for HFH

[July 14] SINGAPORE-- The world's largest display house made
of Tetra pack drink packets was raised in Singapore by the Build4Hope, a Habitat for Humanity Project, to commemorate the completion of the 1,500th tsunami relief huse in Meulaboh in Aceh, Indonesia.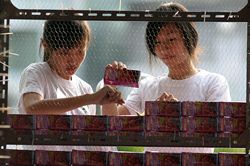 Made of more than 45,500 Tetrapak drink packs, the houses were part of Habitat for Humanity Singapore's Build4Hope advocacy and fundraising event. Build4Hope was also a curtain raiser for the completion of the 1,500th house in Meulaboh town, along the northwestern coast of Indonesia's Sumatra island, under HFH Singapore's tsunami recovery project.


The frames and roofs for the houses, designed to resemble the houses in Meulaboh, were put up at Vivocity's open-air plaza by volunteers from the Singapore Polytechnic. Each day, some 200 students who were on vacation worked in shifts to build the houses' walls with MARIGOLD drink packs, donated by Malaysia Dairy Industries.

Measuring five by two and a half metres each, the "houses" were carefully constructed from 45,528 empty drink packets. The houses, each measuring five metres by 2.5 metres, resembled those built for the tsunami victims in Meulaboh Aceh Indonesia.

First-time Habitat volunteer Tan Sheue Ying, an 18-year-old student from Victoria Junior College, said: "The event is a good idea – the 'houses' are big, visible and attract attention."
The completion of the Tetrapak houses was due to the generosity of the public and business corporations who donated S$2 (US$1.30) per "brick". Many people also walked up to HFH Singapore's booth to drop tens and even hundreds of Singapore dollars into the collection boxes. Those who made greater contributions also took part in a donation draw with the air ticket prizes donated by Cathay Pacific.

At Vivocity's indoor atrium, HFH Singapore also mounted a photo exhibition of its work in tsunami recovery projects in Meulaboh as well as Habitat's work around the Asia-Pacific region. The vivid photos contrasted the grim reality of poverty housing with the bright smiles of Habitat home partner families who were assisted by HFH Singapore and its partner, the Singapore Red Cross.

Build4Hope was opened by Vivian Balakrishnan, Singapore's minister for community development, youth and sports. Offering his congratulations to HFH Singapore and the Singapore Red Cross, Balakrishnan said: "Singapore is proof that a tiny nation can have a big heart. We are a society that not only takes care of our own, but also those who live around us and beyond."

He added that S$70 million of the more than $80 million raised by the Singapore Red Cross' Tidal Waves Asia Fund has been committed to recovery work for tsunami relief. The people of Singapore donated about S$14.3 million (nearly US$8.7 million) to the Singapore Red Cross, which will pay four-fifths of the costs for Habitat tsunami projects in western Aceh.

The event was closed by S. Dhanabalan, a former Singapore minister and patron of HFH Singapore. HFH Singapore national director Yong Teck Meng said: "Operationally, it has been a great success. We received very good media coverage as well."

Build4Hope was covered by Singapore's major daily newspapers in four languages as well as broadcast by local television networks Channel News Asia and Channel 8, and radio station 93.8.
Links:
Habitat For Humanity Singapore

Build4Hope.org




Source: Habitat for Humanity for World Record Academy