Friday, May 26, 2017

Largest hedge maze: world record set in China (VIDEO)

NINGBO, China -- "The Maze of the Butterfly Lovers" set two new world records: covering 33,565 square metres, it sets the new world record for the Largest permanent hedge maze; with a total of 8,375 metres it is the hedge maze with the longest length of paths, according to the World Record Academy.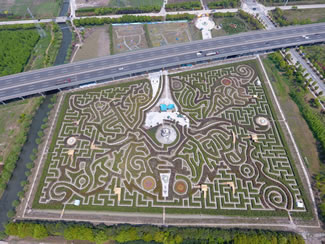 Photo: The world's largest hedge maze in Ningbo, China. Photos: Adrian Fisher Design Ltd (enlarge photo)

The Guinness World Records world record for the largest temporary corn maze is 60 acres (24.28 hectares) and was created by Cool Patch Pumpkins (USA) at their premises in Dixon, California, USA, and verified on 3 October 2014.

Guinness World Records also recognized the world record for the largest ice maze; it is 1,194.33 m² (12,855.68 ft²) in area, achieved by the Arctic Glacier Ice Maze (USA) at the Buffalo Powder Keg Festival in Buffalo, New York, USA, on 26 February 2010. The maze's width was 25.85 m (84.80 ft) and the length was 46.21 m (151.60 ft). The height of the walls was 1.83 m (6 ft). The maze was constructed using 2,171 blocks of each, each weighing 136.08 kg (300 lb).

Covering an impressive 33,565 square metres it is the largest hedge maze in the world by area and it has the longest path length - a colossal total of 8,375 linear metres.

"We are thrilled to have achieved this accolade of recognition for our work. Mazes are one of the finest ways of sharing an adventure together, making choices, and discovering things we never imagined." said Adrian Fisher, Founder & Chairman of Adrian Fisher Design.

The inspiration behind this latest record-breaking hedge maze is the famous Chinese story of the Butterfly Lovers.

The maze design traces the shape of the two butterflies, and visitors discover aspects of the story as they enjoy this huge puzzle. Paths cross above and below each other using a dozen towers, bridges and underpasses.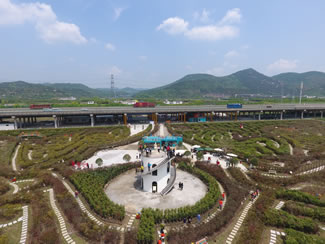 The highlight is the central tower, where twin spiral staircases allow visitors to ascend and spiral upwards towards the sky. (enlarge photo)

Adrian's company, Adrian Fisher Design Ltd, founded in 1979, has created 42 hedge mazes around the world, including those at Blenheim Palace, Leeds Castle and Scone Palace in Britain, and the Chateau de Thoiry in France.

Adrian has also created 58 mirror mazes across 17 countries, including two mirror mazes in China. "We all love mazes, from our earliest exploration of what is out of sight, to the fun of solving puzzles," said Adrian, designer of the maze. "Mazes are one of the finest ways of sharing an adventure together, making choices, and discovering things we never imagined."

Below is a video from the previous record holder:

Related world records:
Largest mobile skating rink: Moscow sets world record (VIDEO)

Largest Crystalline Lagoon: Crystal Lagoons breaks Guinness World Records record (VIDEO)

Largest movable metal structure: Chernobyl dome sets world record (VIDEO)

Largest indoor theme park: Dubai breaks Guinness World Records record (VIDEO)



Largest mattress: Dolidol Maroc


Largest lip dub: City of Vic


Longest playable stringed musical instrument: CapitaLand Singapore

Largest display of toy windmills: energis GmbH


Most People Waving Hands Simultaneously: AG Insurance