Wednesday, April 3, 2013

Largest freshwater aquarium: Singapore breaks Guinness world record

Singapore -- Singapore's long-awaited River Safari is now open to the public; with a volume of 2,000 cubic meters and a viewing window measuring 22 meters by four meters, the tank is part of River Safari's Amazon Flooded Forest exhibit and sets the new world record for the Largest freshwater aquarium, according to the World Record Academy: www.worldrecordacademy.com/.


Photo: Visitors at River Safari's Mekong River zone which showcases river giants such as the critically endangered Mekong giant catfish and the giant Siamese carp. The world's largest freshwater aquarium - and Asia's first river-themed wildlife park - has opened in Singapore. All Photos: Wildlife Reresrves Singapore/WRA (enlarge photo)

The Guinness world record for the Largest aquarium was set by the Georgia Aquarium in Atlanta, Georgia, USA, with 30.28 million litres (8 million US gal) of fresh and salt water.

Guinness World Records also recognized the world record for the longest tunnel aquarium, opened in Chiang Mai, in northern Thailand. Set on a 1.6-hectares plot of land, and constructed by the Zoological Park Organisation (ZPO), it measures 133 m (436 ft) long 66.5 m (218 ft) wide.

Already home to the world's largest oceanarium, Singapore gets to add another watery accolade to its list thanks to River Safari –- the world's largest freshwater aquarium.

One of the highlights is the Amazon Flooded Forest aquarium - the world's largest freshwater exhibit with a volume of 2,000 cubic metres (around 440,000 gal) and a viewing window which is 22 x 4m.

This exhibit houses 18 different species of fish and animals, including Arapaima, piranha, river otters and manatee.

There are 300 species of animals on display at River Safari, of which 42 species are endangered.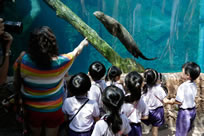 Photo: A group of school children watches in amazement as a giant river otter – the world's largest otter - swims across an underwater tunnel at River Safari. They were among the first to explore River Safari on its soft opening day on 3 April. Photo: Wildlife Reresrves Singapore/WRA (enlarge photo)

These include the Mekong Giant catfish, which can reach 3m in length. Only a few hundred of these huge fish are thought to remain in the wild. The specimens at the park were transported from a captive breeder in Thailand.

River Safari features a Giant Panda Forest - the largest panda exhibit in Southeast Asia - where visitors can see Giant pandas, Red pandas and Golden pheasants in a climate controlled biodome.

The park features some other pretty cool fish including Goonch catfish, Mississippi paddlefish, Murray cod, Australian lungfish, Giant freshwater stingray, Tigerfish, puffers - to name just a few.
There are also reptiles and amphibians such as Indian gharial, Chinese alligators, Frog-faced softshell turtles and Giant salamanders.

Later this year the park hopes to open its much-anticipated boat ride attraction down a 483 metre-long man-made version of the Amazon river, past animals such as jaguar, giant anteaters and tapir.

River Safari falls under the control of Wildlife Reserves Singapore, which also owns the Singapore Zoo, Night Safari and Jurong Bird Park.

Related world records:
Largest Aquarium: The Georgia Aquarium

Smallest aquarium: Stanislav Konenko and Anatoly Konenko (HD Video)

Largest school of sharks: the Dubai Aquarium