Largest Wildlife Feed Cake-world record set by Birdola Products

GRAND RAPIDS, MI, USA --To mark the company's 20th anniversary, Birdola Products created a 5-by-4-foot, 14-inch-thick and 700-pound wheight wildlife seed cake-setting the world record for the Largest Wildlife Feed Cake.

"We've grown considerably in the last 20 years," said President Frank Hoogland, who owns Birdola with Grand Rapids businessmen Dan Pfeiffer and Rich Postma.

"We continue to develop new products and pursue new markets. We hope to keep that trend continuing."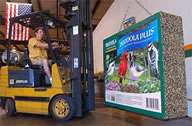 "The world's Largest Wildlife Feed Cake will give all the birds a feast for the balance of the summer and well into the fall," Hoogland said.
(enlarge photo)

Birdola Products donated the world's Largest Wildlife Feed Cake to Blandford Nature Center after the event. The Mayor of the City of Grand Rapids, The Honorable George K. Heartwell accepted the cake on behalf of Blandford Nature Center.

"We expect it to last three months," said Kristin Tindall, ecology education coordinator at Blandford, whose desk faces the feeding area where titmice, chickadees and woodpeckers gather with chipmunks and squirrels. "It's like a picture out of 'Snow White' here."

The seeds are held together by a vitamin-laden protein binder the company developed when the founder, the late Don Metz, searched for a way to reduce mess and waste at bird feeders.

Birdola Products invented the cake-feeding system for wild birds over twenty years ago, and continues to be an innovator in wildlife feeding today.

Birdola's employees, who number 30 to 35, have the capacity to manufacture up to 14,000 seed cakes a day at its Broadway Avenue NW plant. And during busy times, it does, Marketing Manager Rick Savino said.

Today, truckloads of sunflower seeds come in from the Dakotas, peanuts from Georgia, millet from Colorado and nyjer seed from Pakistan, Myanmar and India.

Cherries and blueberries sometimes come from Michigan, but with prices up "tremendously" for all commodities, Savino said, the company tries to find the lowest prices at the right standards.

Large national chains and mom-and-pop stores are carrying Birdola's 45 products.
Locally, Meijer, Family Fare and D&W Fresh Markets carry the lines, including the best-selling, 2-pound Birdola Plus Cakes that hold together even when pecked.

National chains that sell their products include Petco, PetSmart, Lowe's and Menards.

Related world records:
Largest department store-world record set by Shinsegae Centum City

Largest bird feeder-world record set by the Allerton Project farm

Largest hanging basket-world record set by Hotel Indigo London Paddington

Largest Ball of Paper-world record set by Enrique Miramontes and Ricardo Granados

Longest cigar-world record set by Jose Castelar

Largest Painted Easter Egg-world record set by Suceava city

Largest flag made out of beads-world record set by Jeyaraman Ravi

Largest sock monkey-world record set by Cherylle Douglas

Largest flag made out of mineral water bottles-world record set by MVFRA


Monday, May 18, 2009