Largest Painted Easter Egg: world record set by Suceava city

SUCEAVA City, Romania-- The town-hall of the Municipality of Suceava inaugurated a glass-fiber Easter egg, 7.25 meters tall, 4.6 meters in diameter and weighing 1.8 tones, decorated with traditional patterns – establishing the world record for the Largest Painted Easter Egg.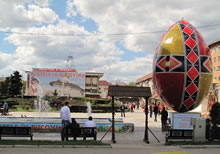 Photo: The Largest Painted Easter Egg
(enlarge photo)

The Mayor of Suceava, Ion Lungu, said that this work is a symbol for Suceava, indicating the fact that the painting on the egg, which was performed with the approval of IPS Pimen Suceveanul, uses the traditional colors, red symbolizing the blood of Jesus Christ, black – eternity, and yellow – the light.

The Archbishop of Suceava and Radauti, IPS Pimen Suceveanul, who performed the religious service, indicated that the world record painted Egg is "a work of art" and spoke of the man's need for beauty, underlining the fact that there is no place where the Easter eggs are painted more beautifully than in Bucovina.

The Chairman of the District Council of Suceava, Gheorghe Flutur, appreciated the effort of the municipality of performing "a monument-egg" being a symbol for Bucovina.
"What we see here is an exteriorization of our sensitivity, just the way we think", Gheorghe Flutur also said.

The representative of World Record Academy, who homologated the record, declared: "It is a great honor for me to represent the World Record Academy in Suceava, in the fortress of Stefan the Great and Saint. There is probably no other place where the (Orthodox) Easter traditions are so well kept and so vibrant, as here, in the heart of Bucovina."
"This was proved today as well by the creation of this symbol of the Bucovinian traditions – the 7.25 meter high painted Easter egg."
"On behalf of the World Record Academy, I congratulate you for having established this new world record: the Largest Painted Easter Egg", stated the representative of the World Record Academy.

She handed over to the mayor of the Municipality of Suceava, Ion Lungu, the certificate whereby the world record is recognized.




(enlarge the Giga panorama, click here) The giant panorama can be also seen in Google Earth.

The two world records established by local authorities in the County of Suceava (the Largest Painted Easter Egg and the Largest Easter Pasca) are part of a series of manifestations organized within a tourism promotion program in the County of Suceava, entitled "Easter in Bucovina" and performed by the District Council of Suceava in partnership with the Archiepiscopacy of Suceava and Radauti, the Ministry of Tourism and 40 town-halls in the county.

Related world records:
Largest Rocking Chair-world record set by Dan and Carolyn Sanazaro

Largest hanging basket-world record set by Hotel Indigo London Paddington

Longest letter to Santa Claus-world record set by the Romanian Post

Longest bridge fountain-world record set by the Banpo Bridge

Largest Hockey Stick and Puck-Cowichan Valley sets world record

Biggest mobile guitar-world record set by Dieter Senft

Biggest chocolate castle-world record set by Krunoslav Budiselic

Largest Brick-world record set by Baby Clay from ACME

Wednesday, April 29, 2009