NEW WORLD RECORD
Largest skateboard - California designers
Biggest skateboard- world record set by Bay College students
[Aug 18] ESCANABA, MI--Bay College students have built the biggest skateboard. It's just over 31 feet long.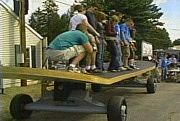 "When it all comes together, you see things," explains Shaun Anderson, the project leader.

"It started from a regular board, to the deck, the trucks, to the tires, and then it came into something that looks like a skateboard."

To qualify as a world record, it has to turn and operate just like the real thing.

Incidentally, Governor Granholm Friday took a brief ride on the gigantic skateboard.