Longest movie-watching marathon-world record set by Suresh Joachim and Claudia Wavra
Most movie watched-world record set by Claudia Wavra
[Aug 22] RAVENSBURG, Germany-- Claudia Wavra of Germany holds the new world record in nonstop movie watching. She sat through 56 movies in a row.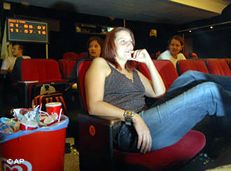 Photo:With popcorn by her side, Claudia Wavra broke her own record

This week, in a movie theater in the southern German town of Ravensburg, she watched movies for 117 hours and three minutes- almost three hours longer than her previous record.

After extensive numerological considerations, even the sight of Leonardo di Caprio's naked, nubile body, and sand in his hair, could not keep Wavra glued to her seat. 15 minutes into movie number 56 -- Leo's hippie-meets-horror bathing-suits extravaganza "The Beach" -- Wavra finally got up to go.

Cheered by onlookers and supporters, she said she felt relatively ok and was looking forward to taking a nap. "I know that I haven't reached my limit yet," she said.

In order for the record to be valid, Wavra and the 69 other contestants who set out on this hallucinatory path with her were not allowed to take their eyes off the screen for longer than 10 seconds at a time. They were also allowed ten-minute breaks between movies.

Wavra used her ten-minute breaks (or, rather, the portion of it which she didn't have to spend waiting in line for the toilet) for power naps or aggressive music meditation, listening to punk and hard rock CDs.

She also said that she couldn't quite remember individual movies. "It's all a big, colorful mass of things," she said.