Tuesday, May 29, 2012

Largest bagpipe orchestra: Bulgarian pipers set world record (PICS & VIDEOS)

SOFIA, Bulgaria -- 333 bagpipe players of all ages and from all over the country performed live in Sofia in front of an ecstatic audience , setting the world record for the Largest bagpipe orchestra, according to the World Record Academy: www.worldrecordacademy.com/.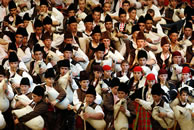 Photo: The World's Largest bagpipe Orchestra.
Photo: Reuters
(enlarge photo)

The Guinness world record for the largest harmonica ensemble involved 6,131 participants for an event organised by the Tom Lee Music Company Limited in Happy Valley Recreation Ground, Hong Kong.

Guinness World Records also recognized the world record for the most concerts performed by a symphony orchestra: 14,000- by the New York Philharmonic (USA) over the last 162 years. The orchestra's archive has the first performance on 7 December 1842 and the 14,000 on 18 December 2004.

The event, which attracted thousands of spectators to the capital's biggest concert hall, united music ensembles and individual players from all over the country.

The 333 Bulgarian folk musicians gathered in central Sofia, blowing their kaba-gaidas -- bagpipes from the Rhodope mountains in the south of the Balkan country -- to set the first such world record.

Dressed in traditional colorful Rhodope costumes, bagpipers started with a famous folk song -- Delyu Haidutin -- which was included in a Voyager golden record with the songs and sounds of our planet and sent as a message to space by NASA in 1977.

The origins of the bagpipe are unclear and are certainly not to be found in Bulgaria. Many believe the instrument first appeared in the Middle East around 1000 BC. But Bulgaria is certainly one of the countries where it is most popular.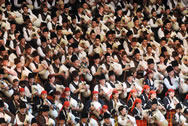 Photo: 333 bagpipers perform together during an attempt for the largest bagpiper orchestra in Sofia. Photo: AFP (enlarge photo)

It has a central role in many folk melodies and songs, especially in the southern Rhodope Mountain. Pipers from this area of the country who took part in the event have promoted their music all over the world.

The event also aimed to bring a spot of joy to a nation which a survey showed was among the most unhappy on the planet.

Having joined the European Union in 2007, it is still the bloc's poorest member and recovering from a deep recession.


Related world records:
Longest Open Saltwater Scuba Dive: Ivan Zhelezarov sets world record

Biggest plane placed under water: Bulgarian ex-dictator's plane sets world record

Bulgaria's world records

Longest trumpet fanfare line: British soldiers set world record (Video)

Longest Guitar Solo: David DiDonato sets world record (Video)

Largest Guitar Ensemble: Jimi Hendrix Festival sets world record (PICS & Videos)

Most 4 x 6 inch works of art displayed in a gallery: Kelowna Art Gallery sets world record

Largest portrait made of dice: Frederick McSwain (Video)

Largest Bead Mosaic: Stephan Wanger sets world record (Video)

Largest coffee bean mosaic: Saimir Strati sets world record (Video)

Largest violin ensemble: Taiwan students sets world record (Video)

Largest 3D painting: Reebok CrossFit sets world record (Video)

Catchiest song ever written: We Are The Champions (Video)

Largest Embroidery by a Single Person: Heather Hems

Longest drumming marathon: Steve Gaul (HD Video)

Largest Lite-Brite Picture: Rob Surette set world record (Video)

Longest church organ marathon: Jacqueline Sadler

Most characters played by one actor: Joe Bone

Deepest a cappella performance: Sudbury choir

Fastest Violin Player: Rock Violinist Ben Lee

Largest Virgin Mary Painting - Suzanne Kraus Mancuso

Longest street concert - Berlin buskers

Slowest Techno Track - Scaramanga Silk

Fastest guitarist - Randall Padilla

Largest String Ensemble - String Jam '10

Longest Concert by a Solo Artist - Alex Carlin

Longest piano concert - Romuald Koperski

Longest Pop Song - Apparente Libertà by Giancarlo Ferrari

Longest concert by children artists - Stars Club

Youngest String Orchestra to Play at Carnegie Hall - South Pasadena Children's Orchestra

Longest concert - Balatonfured Guitar Festival

Longest Drumming Marathon - Jagjit Singh

Longest concert - Balatonfured Guitar Festival

Tuesday, May 29, 2012 9:12 AM