Friday, November 18, 2016

Oldest woman in space: Peggy Whitson breaks Guinness world record (VIDEO)

Baikonur, Kazakhstan -- A Soyuz rocket carrying veteran Nasa astronaut Peggy Whitson, French newcomer Thomas Pesquet and Russian cosmonaut Oleg Novitskiy lifted off from the Russia-leased launch facility in Kazakhstan and went into orbit eight minutes later; Whitson, who will celebrate her 57th birthday in February while on the ISS, has become the oldest woman to fly into space, according to the World Record Academy.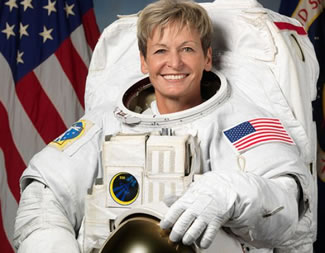 Photo: During her stay in space, Peggy Whitson will become the first woman to have commanded the space station twice. During Expedition 16 in 2007, she became the first woman ever to command the station. Whitson is scheduled to return to Earth with Novitskiy and Pesquet in May. Photo: NASA (enlarge photo)

The Guinness World Records world record for the oldest female racing driver is Jeannie Reiman ( b. New Zealand, 19 April 1913) who competed in the Canadian Vintage Modified's 10 lap Powder Puff race at Sunset Speedway in Stroud, Ontario, Canada, on 3 August 2003, aged 90 years 106 days.

Guinness World Records also recognized the world record for the oldest female to swim the English Channel; it is Sue Oldham (Australia, b. 24 November 1945) who crossed from England to France in 17 hr 11 min aged 64 years 257 days on 8 August 2010.

This will be the third space station mission for the Iowa-born biochemist, who first went to space in 2002, and her second stint as commander. In 2007 she became the first woman to command the ISS and will set another first when she will take command for the second time.

During training, a French documentary crew followed Pesquet, focusing on his relative youth and fresh eyes. Whitson said the interest on her, by comparison, was for being "old and experienced."


Photo: In this image from Jan. 30, 2008, Expedition 16 commander Peggy Whitson, the first female commander of the International Space Station, participates in a seven hour, ten minute spacewalk. During the spacewalk, Whitson and astronaut Daniel Tani, flight engineer, replaced a motor at the base of one of the station's solar wings. Photo: NASA (enlarge photo)

"All right, yes, I'm old," she said in a Nasa interview. She noted in a recent series of preflight interviews that it gets easier with age, knowing what to expect on a spaceflight and how to prioritise.

Whitson has already spent 377 days in space and logged almost 40 hours of spacewalking, which was the most recorded by a woman until 2012, when compatriot Sunita Williams overtook her with over 50 hours of cumulative spacewalk time.

This six-month mission should also push her beyond 534 days in space, the US record set in September by 58-year-old astronaut Jeffrey Williams.


Related world records:
Youngest passenger on wheightless flight-world record set by Jules Naders

Oldest Papergirl: Beryl Walker smash Guinness world record

Oldest working model: Carmen Dell'Orefice (Video)

Longest career as a Flight attendant: Ron Akana sets world record (VIDEO)


Largest mattress: Dolidol Maroc


Largest lip dub: City of Vic


Longest playable stringed musical instrument: CapitaLand Singapore

Largest display of toy windmills: energis GmbH


Most People Waving Hands Simultaneously: AG Insurance