Most Beloved Princess-world record set by Lady Diana

[Aug 31] LONDON, UK--People called her "The People's Princess," "The Queen of Hearts" or "England's Rose."An iconic presence on the world stage, Lady Diana was noted for her sense of style, charisma, humour and high-profile charity work.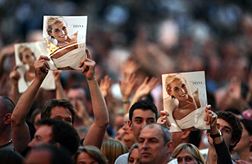 Photo:
Fans wave posters during the Concert for Diana at Wembley Stadium, London, July 1, 2007. Photo by Matt Dunham / AP

From the time of her engagement to the Prince of Wales in 1981 until her death after a car accident in 1997, Diana was one of the most famous women in the world - a pre-eminent celebrity of her generation.

During her lifetime, she was often described as the world's most photographed woman.

Posthumously, as in life, she is most popularly referred to as "Princess Diana", a title she never held.

Starting in the mid- to late 1980s, the Princess of Wales became well known for her support of all charity projects. This stemmed naturally from her role as Princess of Wales - she was expected to engage in hospital visitations where she comforted the sick and in so doing, assumed the patronage of various charitable organizations - and from an interest in certain illnesses and health-related matters.
Owing to Public Relations efforts in which she agreed to appear as a figurehead, Diana used her influential status to positively assist the campaign against landmines, a cause which won the Nobel Prize in 1997 in tribute, and with helping to decrease discrimination against victims of AIDS.


In April 1987, the Princess of Wales was one of the first high-profile celebrities to be photographed touching a person infected with HIV at the 'chain of hope' organisation. Her contribution to changing the public opinion of AIDS sufferers was summarised in December 2001 by Bill Clinton at the 'Diana, Princess of Wales Lecture on AIDS': " In 1987, when so many still believed that AIDS could be contracted through casual contact, Princess Diana sat on the sickbed of a man with AIDS and held his hand. She showed the world that people with AIDS deserve no isolation, but compassion and kindness. It helped change world's opinion, and gave hope to people with AIDS.

The pictures of Diana touring an Angolan minefield, in a ballistic helmet and flak jacket were seen worldwide.Her interest in landmines was focused on the injuries they create, often to children, long after a conflict is over. She is believed to have influenced the signing, though only after her death, of the Ottawa Treaty, which created an international ban on the use of anti-personnel landmines.

Diana's interest in supporting and helping young people led to the establishment of the Diana Memorial Award, awarded to youths who have demonstrated the unselfish devotion and commitment to causes advocated by the Princess.

Prince Harry:"She made us and so many other people happy. May this be the way that she is remembered."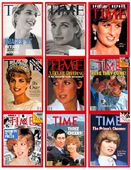 In living memory
"Diana lives on. She resides in the memory of friends and enemies, in the recollection of her touch by those who felt her presence as the self-appointed angel to the downtrodden; she echoes on videotape, outlining for the BBC a tell-all autobiography that will never be written. Some of the stories repeat themselves: how she listened, how she placed strangers at ease, how she embraced, how she remembered, how she was kind. Others, even in their triteness, resonate with intriguing new meanings now that the arc of her life is completed."- Howard Chua-Eoan in Time magazine.

(click here to enlarge photo) ;
click here for cover's stories-(see right column)


The People's Princess
...In the gardens of Kensington Palace, Diana's old home, those memories were very much alive. If the crowd gathered at the chapel was reserved and respectful, this was the place for Union Jack-covered folding chairs — and a strong sense of many people's still very protective stake in Diana. Here, as one sign pinned to the Palace's thick, black, gilt-edged gates read, was "The People's Memorial." Depending where you looked, amid the pink paper hearts and purple balloons, Diana was "The People's Princess," "The Queen of Hearts" or "England's Rose." -Time magazine


Other Lady Diana's world records :
Most video cameras at wedding
Most popular programme ever broadcast (wedding)
Most famous divorce
Most photographed women
Most Flowers received
Biggest Funerals
Most sucesful Memorial Fund